Guest post by Zaira Zarotti| The freaky table
A journey through the ancient Etruscan land in the heart of Italy & a recipe for homemade lombrichelli with sausage sauce and wild fennel.
That priceless feeling of having really experienced a fulfilling time that you perceive after a trip is just one of the hundred reasons that often brings me to say YES to the adventures that come on my way.
I guess those who love traveling perfectly understand what I mean.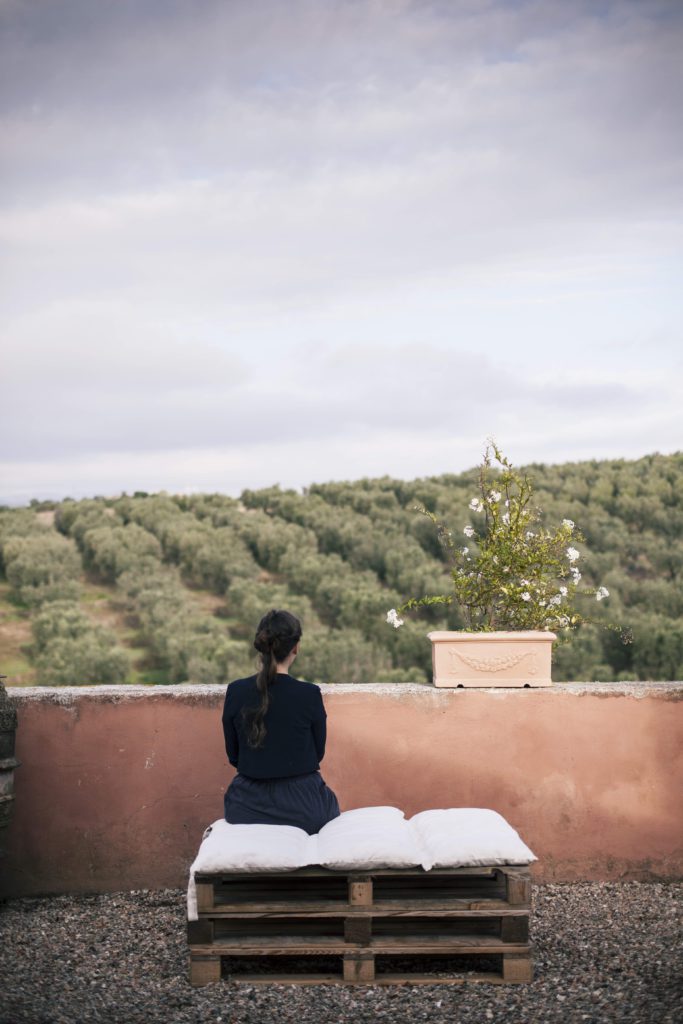 I had already been contacted by local promotional organizations to take part in some sort of press-trips (for example, see my previous posts dedicated to The Netherlands here & here) but only abroad. This time, instead, Italy has called!
Specifically, this time I got a call from Italian Stories – the first smart portal to promote experiential tourism in Italy, born in 2015 with the aim of making the real contemporary Made in Italy known – who, together with the Chamber of Commerce of the city of Viterbo, asked me to join a press trip to experience Tuscia. I obviously replied with a big yes, but right after I hung up…wait, where the hell is Tuscia?!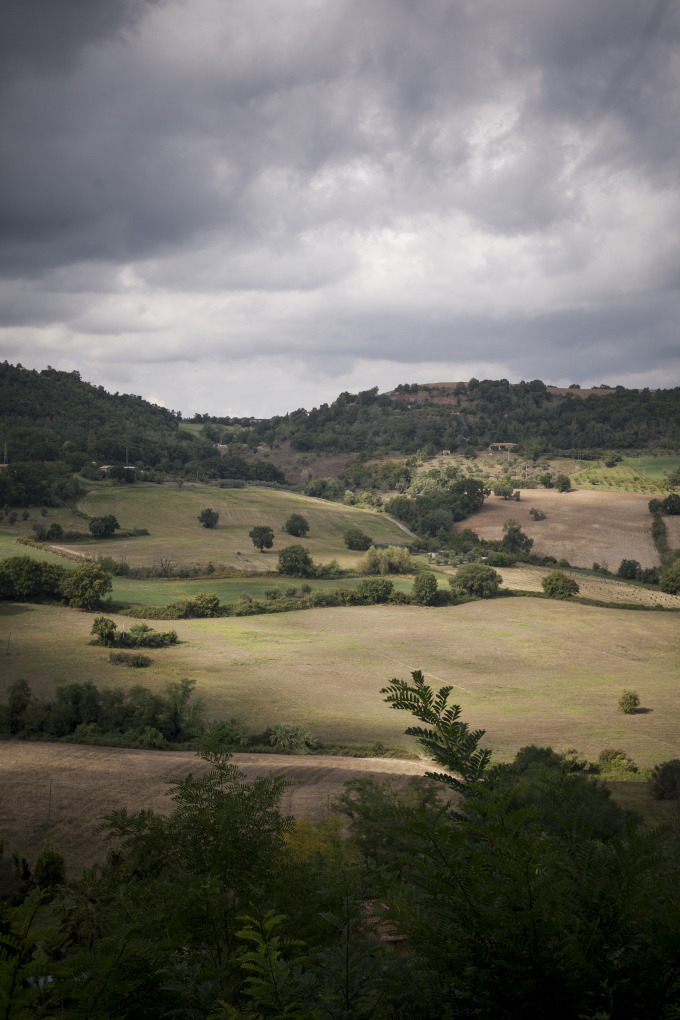 I confess that the only thing I was certain about was that Tuscia was an area of central Italy and that it included part of the Tuscany region, but I was not at all sure about how far its borders extended.
In fact, I learned later that Tuscia is the name of a rather vast territory that includes parts of different regions, such as Lazio, Tuscany, and Umbria, and that it is a synonym of Etruria, the historical core of the Etruscan civilization. Tuscia, indeed, is the name which was given to this area between the end of the Roman Empire and the early Middle Ages.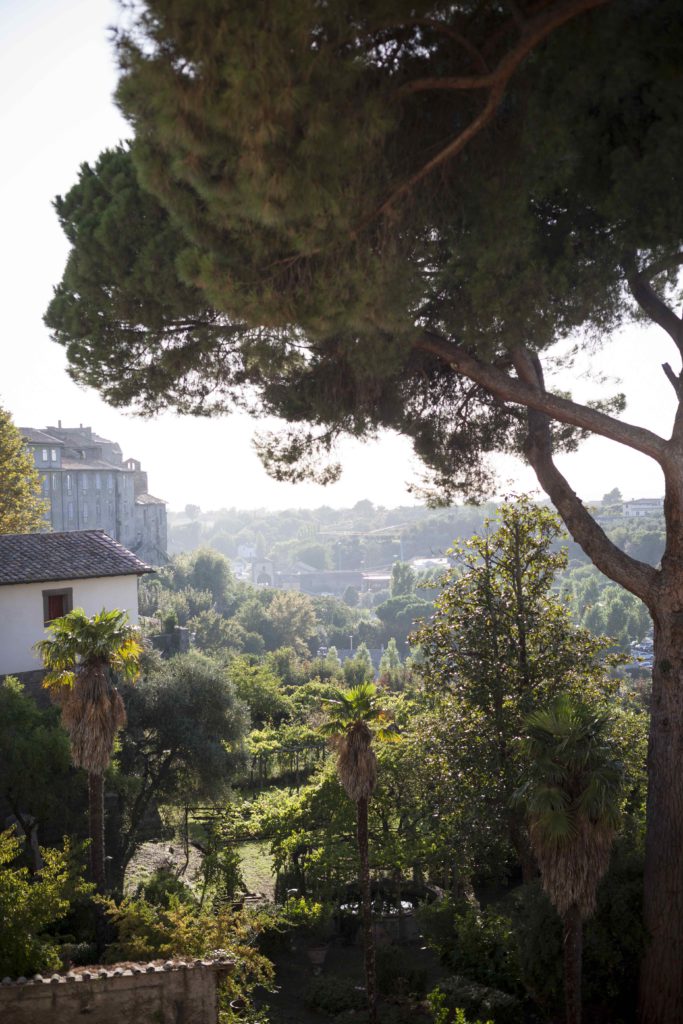 Tuscia includes the Tyrrhenian coast between Civitavecchia and Maremma Grossetana (the Southern part of Tuscany which is so particularly dear to me – here a post about it!), it is crossed by the Via Francigena and it is dotted with ancient hilltop villages, places of historical and archaeological interest, breathtaking landscapes with volcanic lakes and thermal areas. It is a concentrate of beauty to be discovered.
Although it is a little touristically underrated because it is located halfway between more inflated destinations such Val d'Orcia in Tuscany and Rome, Tuscia has a very strong territorial identity and absolutely unique features that make this area very diversified thanks to the many attractions it has to offer.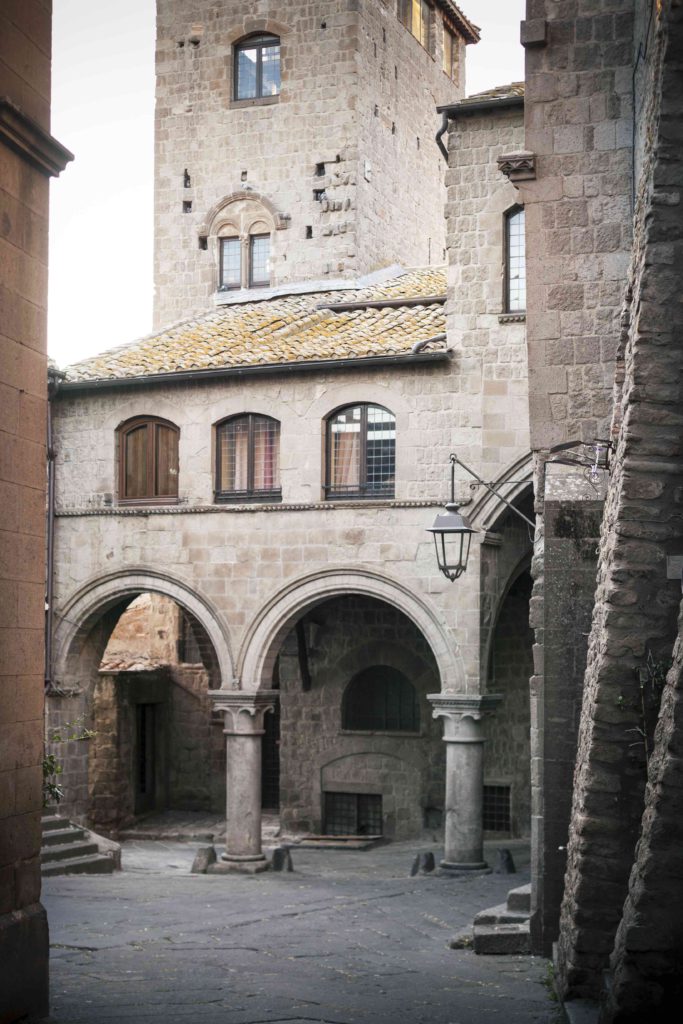 Tuscia Welcome – the integrated tourism project which was conceived by the Chamber of Commerce of Viterbo – was born precisely to support and develop a new culture of welcoming, based on an idea of integration of the various resources which are present in the area.
Resources, in this case, mean not only historical, scenic or cultural attractions but also the social tissue itself, consisting of local businesses and crafts, folkloristic events and excellent food and wine. This post then, where I retrace and share a small part of the wonderful reality I came across, will hopefully be considered a starting point for anyone who wants to find out more about this area.
I personally got very passionate about the cuisine of this land thanks to the beautiful book "Tuscia a Tavola" by Italo Arieti, where I took the recipes of the dishes that accompany this post.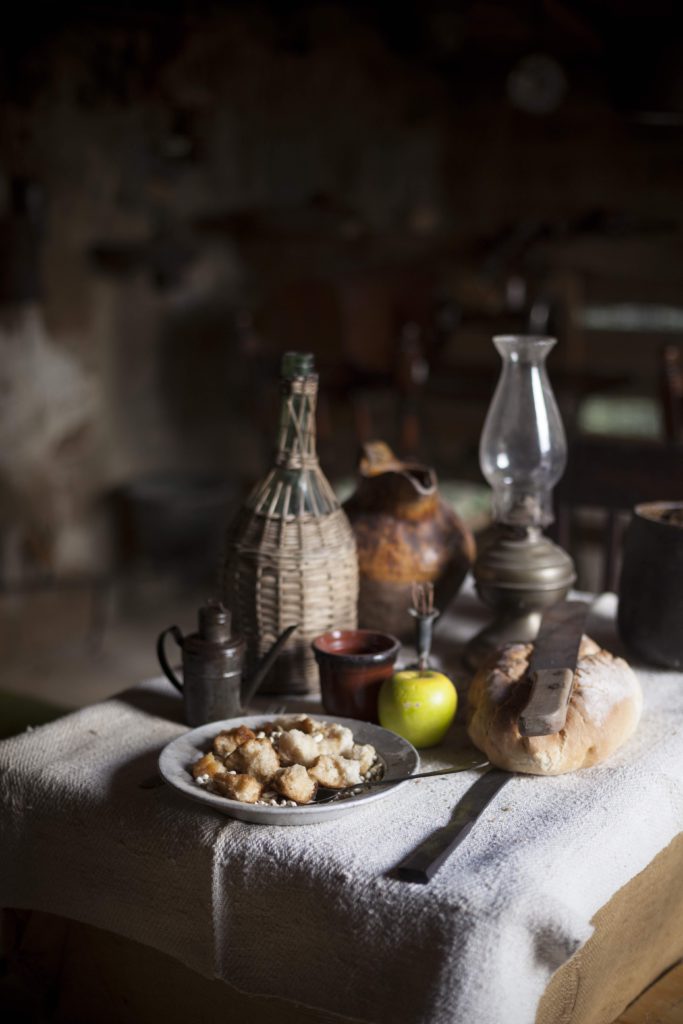 Given its position at the center of the Province, Viterbo – also known as "City of the Popes" because it was nominated in 1257 as the papal residence – was the starting point.
Noble palaces, fountains and monuments attest the past glories of this ancient city, which is also known as "the city of beautiful women and beautiful fountains". Its fountains have the characteristic spindle shape that often evoke a distinctly Medieval suggestion.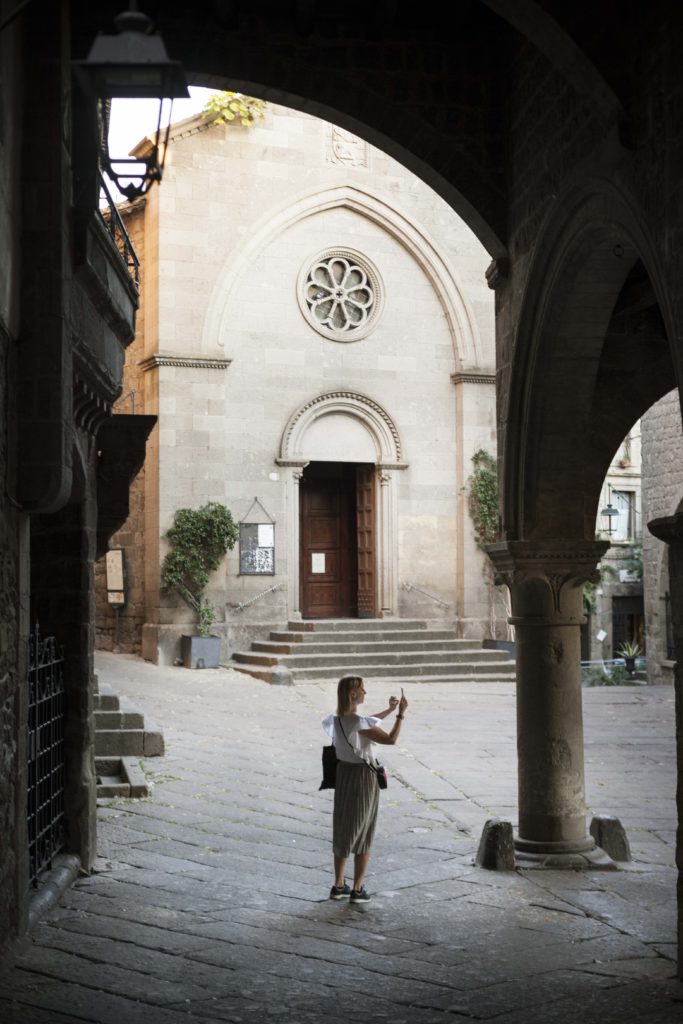 It was precisely in Viterbo, after a guided tour through the most evocative areas of the city, that I got acquainted – around a richly laden table of the restaurant L'Archetto – with many local producers of oil, wine, preserves, desserts and pasta.
I will briefly list the producers' companies that have been introduced to me. Each one of them offer – together with their best products – customized tours and tastings in their own estates, which are spread throughout the territory.
– Frantoio Battaglini, di Andrea Battaglini
– Azienda vinicola Terre di Marfisa, di Nathalie Clarici
– Oleificio Presciuttini, di Pierluigi Presciuttini
– Azienda Agricola I&P di Ione Zobbi e Paolo Borzatta
– Azienda Agricola Il Molino, di Annalisa Torzilli (who hosted us and made us deeply enjoy our stay)
– Pastificio artigianale Felici di Giulio Felici
– Fattorie Solidali, Fattoria di Alice Luciana Ricci
– Azienda Agricola Biologica Petrignanum, di Cristina Duri
– Frantoio Cioccolini, di Rosato Cioccolini
– Frantoio Paolocci, di Fausto Paolocci
– Tuscus frantoio artigiano, di Giampaolo Sodano e Fabrizia Cusani
– Panetteria e Pasticceria Isanti di Simonetta Isanti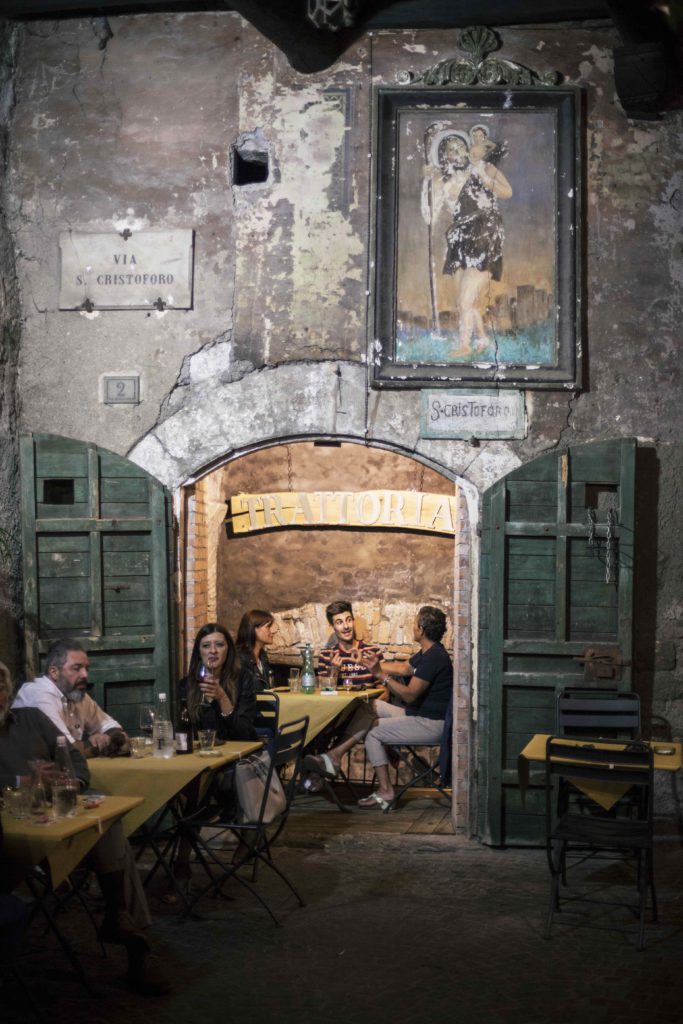 Among the most beautiful attractions of the area, there is also Bolsena lake, which is the largest lake of volcanic origin in Europe and is located north of Viterbo, about half an hour's drive from the city. The village of Bolsena, from which the lake took its name, is undoubtedly one of the most evocative and picturesque of Lazio. The historic center is Medieval in appearance but contains some Renaissance-style elements. It is a jewel of narrow streets and buildings where you can stroll aimlessly without losing sight of the beautiful lake in the background.
Here I met Mara and Mila from Terre di Rasenna, mother and daughter, ceramic and leather artisans.
In the beautiful courtyard in front of their home-laboratory, dominated by the green of the surrounding lush vegetation and the vivid colors of their creations peeping out of their studio, you can take part in their pottery and decoration workshops to create your own object, and let yourself get inspired by the magical context.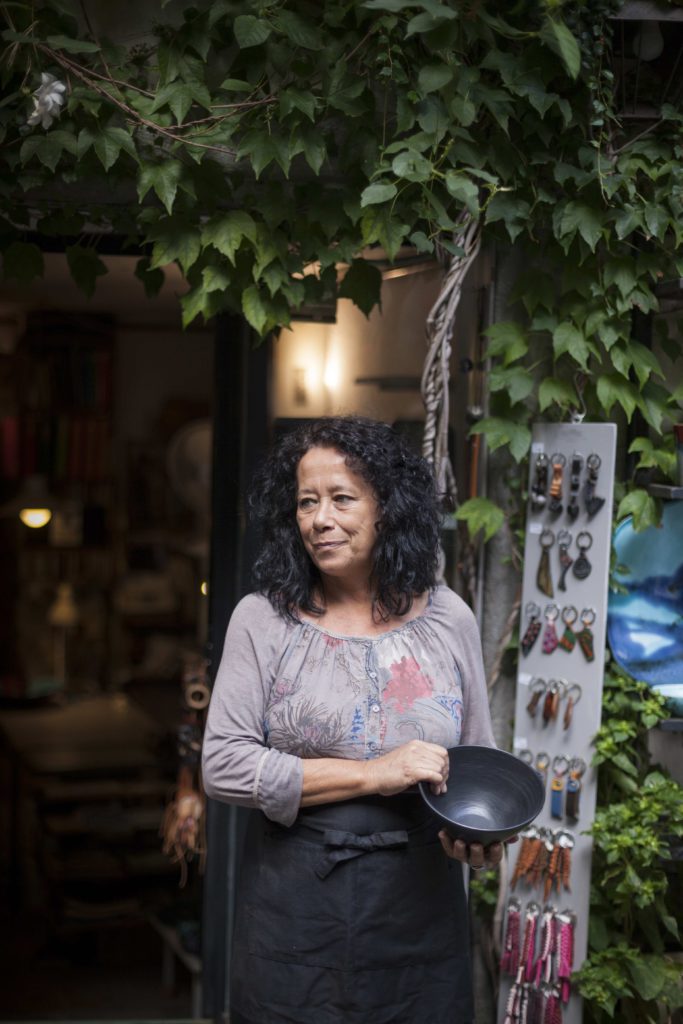 Along the provincial road that goes from Viterbo to the borders of Umbria region, you come across one of the most unusual, evocative, but also less known places not only in Tuscia, but in the whole Lazio region: the ghost town of Celleno, a magical place where time seems to have stopped.
Of Etruscan origins, Celleno became a fortified town between X and XI centuries, when it was built by the Counts of Bagnoregio. During the modern age, Celleno Vecchio has often been terribly upset by landslides and earthquakes that caused its gradual state of abandon starting from the 1930s.
The abandoned town, today also called "the lost city", is accessible through a bridge that leads to the large entrance door overlooking Piazza del Mercato, where you will find the Romanesque church of San Donato, the partially collapsed church of San Carlo and Orsini castle.
It was in this incredible scenario that I met Miranda Boi from Decor 2M, with whom I took a short mosaic workshop, having such a relaxing moment playing with the small and colorful pieces of marble.
At the foot of the village there is a new restaurant called San Rocco, where I ate the first unforgettable version of lombrichelli, the ones I re-made at home by following the recipe which I propose below.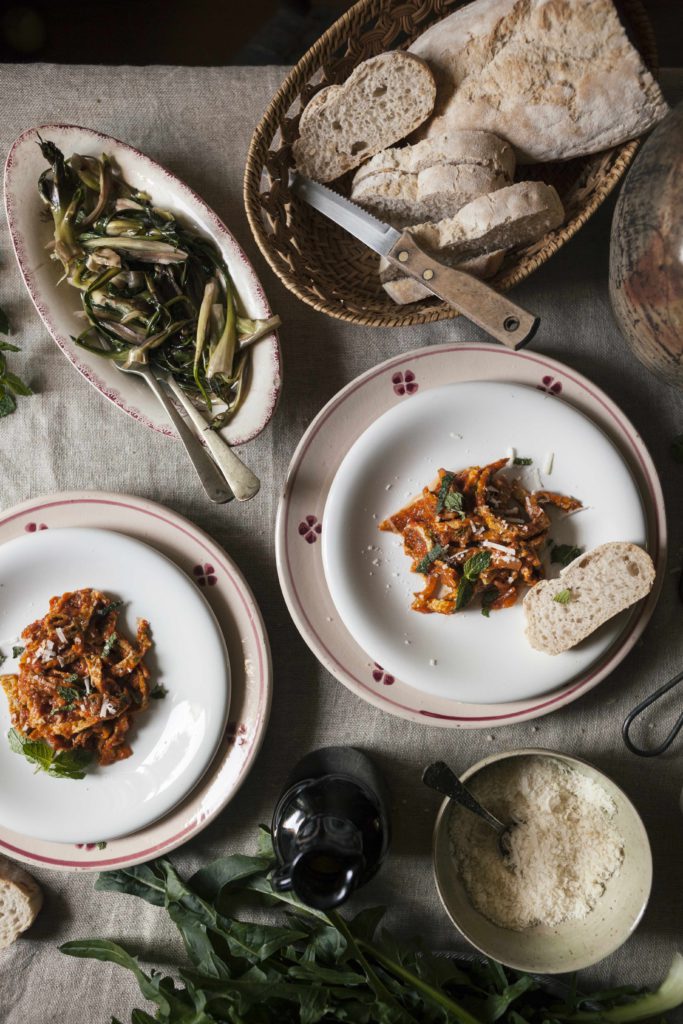 On our way back, before admiring the sunset from the Bolsena lake shore, I visited Montefiascone, which indeed offers the most beautiful overall view of the lake. The village stands on top of the highest hill of the Volsini Mountains, about 600 meters above sea level.
Among the places that deserve a visit, there is Mr. Mauro Marroni's historical typography Silvio Pellico. With over 320 years of uninterrupted work, this typography is the oldest artisan typography we know of. Owned by the Marroni family since 1956, it contains unimaginable typographical treasures.
It is possible to book a visit to the museum/laboratory and to be guided through a practical demonstration of the functioning of the various machines to make your own typographic composition by using movable types for printing!
Nearby there is also the Antico Borgo la Commenda, where you can eat typical specialties at the Caro Commendatore restaurant.
Located in the north-west area of the Province of Viterbo, Canino is one of the most famous places in Tuscia, because of the archaeological area of Vulci and because of its renowned wine and food delicacies. A few kilometers from the border with Tuscany, Canino is located in an area which is called Maremma Viterbese, just a few steps from the sea.
With this scenario behind me, I attended a cheese-making demonstration by Francesca Manca from Maremma in Tuscia, and I took part in a tasting of delicious Apifarm honey by Giuseppe Porcelli and craft beer by Andrea Fralleoni of Free Lions Brewery.
In a dominant position, surrounded by the rural landscape of upper Tuscia, Tuscania appears from a distance, beautifully enclosed by its boundary walls and high medieval towers.
With flocks of crows flying over the valley and the first colors of autumn all around the church of San Pietro, it looked like a scene of Game of Thrones!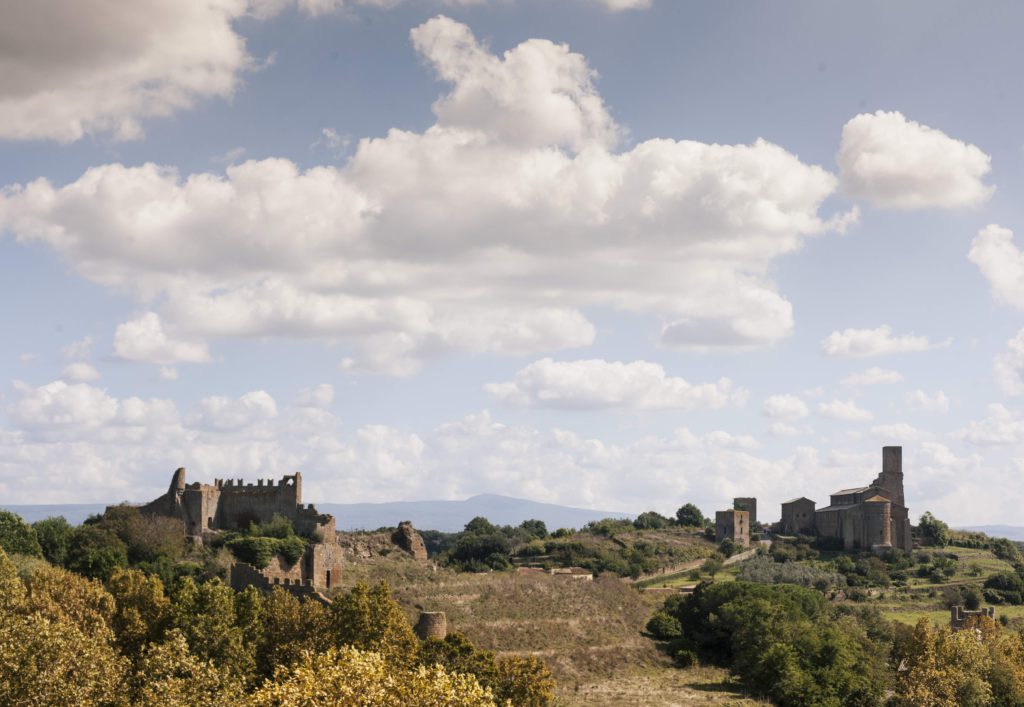 Exactly In front of this view, I took part in an incredible feast which was based on typical products and dishes that had been generously prepared by Il Terziere di Poggio Fiorentino restaurant. They serve extremely rich food in very generous portions, like sweetbreads and lamb chops, tripe, pan-fried snails, red partridge and porcini mushrooms stuffed ravioli, stuffed guinea-fowl and roast rabbit with potatoes… delicious but probably the fatal blow for a quick collapse while climbing on the hill where the Basilica of St. Peter stands! But if you manage to get there … it's a wonder.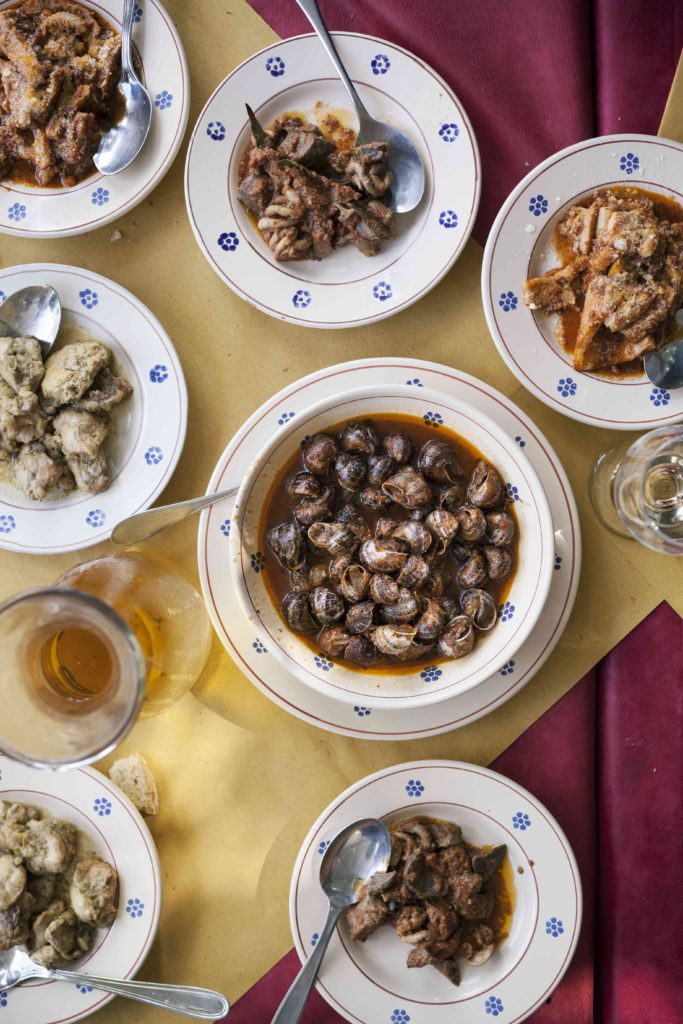 One can only admire and feel moved by the beauty that the church hides
Inside. The central nave is characterized by a cosmatesque-style floor (polychrome mosaic decoration with geometric motifs), the right aisle leads to the crypt with cross vaults, and the left aisle houses several Etruscan sarcophagi.
I could go on writing four more pages, without being able to list everything that Tuscia has to offer, so I stop here and simply go over to the recipe, always remembering and feeling grateful for that beautiful sense of fullness which I derive not only from food, but also from the beauty that nourishes the soul.
I thank Eleonora Odorizzi and Andrea Miserocchi of Italian Stories, the Viterbo Chamber of Commerce and especially Annamaria Olivieri and my traveling companions, Alessandro Zaccardo, Giorgia Pallaoro and Isobel Lee for making the trip, even more, an experience to remember.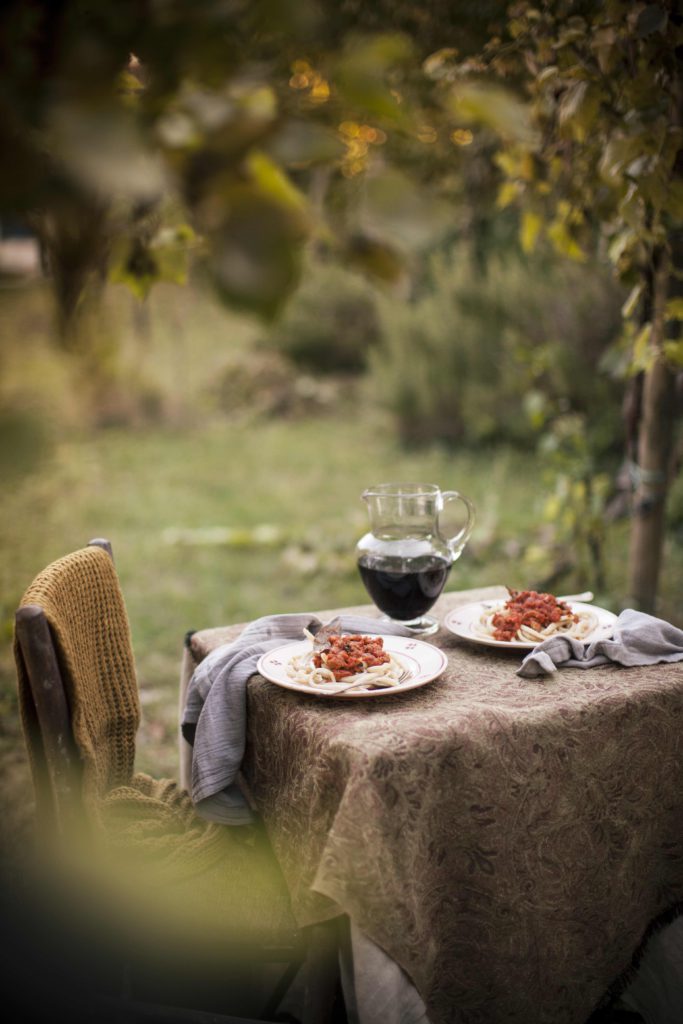 Homemade Lombrichelli with sausage sauce and wild fennel
For pasta:
– 250 g durum wheat 00 flour
– 150 ml of water
– 1 generous pinch of saltf
– 1 tablespoon of extra virgin olive oil (optional)
For the sauce:
– 400 g of pork sausage
– 500 g of very ripe San Marzano tomatoes
– 2 cloves of garlic
– 2 bay leaves
– 1 pinch of wild fennel powder
– Salt and Pepper to Taste
– A drizzle of extra virgin olive oil
Put the flour on a large wooden working surface and make a hole in the center of the flour, then add the pinch of salt and a tablespoon of extra virgin olive oil (that's optional but it helps to get an elastic dough!). Add water and combine the ingredients to form a smooth dough that is neither too soft nor too firm. Depending on the humidity level of the flour, you may need to use less or more water. Knead for about 10 minutes until smooth and very elastic; let it rest at room temperature, covered, for 30 minutes. Pinch off cherry-sized pieces of dough and roll into short logs using the palm of your hand. Proceed to roll and elongate the dough into thick and long strands, using your palms and eventually fingers to shape the strands to a thickness of about 4/5 mm in diameter.
Place Lombrichelli on a tray, generously dusted with flour, and set them aside to dry for several hours before cooking.
To prepare the sauce, start throwing the tomatoes into a pot of boiling water, for no more than a minute. Fish them out with a slotted spoon, and plunge them into a bowl of cold water. Then remove the skin with a knife or your fingers, chop them into cubes and set aside for a minute.
Pour the extra virgin olive oil in a thick bottomed pan and add the peeled garlic cloves and the bay leaves, letting them slightly stir-fry before adding the tomato cubes.
Cook the tomatoes over medium heat for around 20 minutes, stirring occasionally.
Meanwhile, remove the skin of the sausages and crumble them with your fingers into another pan. Cook them over high heat for 8 to 10 minutes, until the sausages have released their fat on the bottom of the pan. Remove the sausage ragout from the pan, leaving their fat on the bottom, and add it to the tomato sauce. Cook the sauce over low heat for another 20 minutes, stirring from time to time and flavoring only at the end of cooking with fennel powder, salt and pepper to taste.
Cook Lombrichelli for about 8-10 minutes into salted boiling water, then drain and season with the sausage sauce. Serve immediately, with a sprinkle of grated Pecorino cheese, if you like.