There we are. Greetings from Venice! Carnival has started today and this is our first Italian Stories blog post.
The number of blog post ready to be published is growing day by day, artisans' story by artisans' story. Soon they they'll be online.
Meanwhile, follow our Venetian artisan tour during this earlier days of Carnival on our Italian Stories Instagram feed.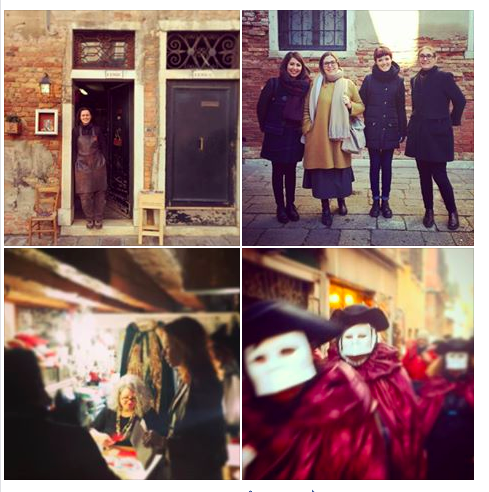 Part of us at Italian Stories knows well their way around Venice. That's very handy because we have a long list of new artisans to visit. Also, today we are at Venetian glass beads stringer Marisa's workshop, filming a service about artisans in Italy with journalist and Canale5 anchorwoman Veronica Gervaso.
We're walking fast through the maze of streets and squares, avoiding the slightly flooded ones, in order to be on time at each meeting.
As locals do, we cross Canal Grand with one of the traghetto, a large gondola without any decoration, rowed by two oarsmen, available at several piers between S. Lucia railway station and St. Mark Basin.
That's the perfect and inexpensive way to cut a good deal of time to reach our destinations and enjoy, even briefly, floating on a gondola.
Are you planning your next visit to Venice?
Mark your favorite Venetian artisan workshops in your Venice street map and find if there's any traghetto's pier nearby.
Here's some Instagram pics of these days: