Have you ever wondered how to make an hand hammered copper cookware?  Are you curious to know how to build a copper alembic still? Or how to handcraft a copper vase?
Then meet Andrea, third-generation Italian coppersmith in his family-owned workshop. For seven days he took over our Italian Stories Instagram feed, sharing with all of us his unique point of view.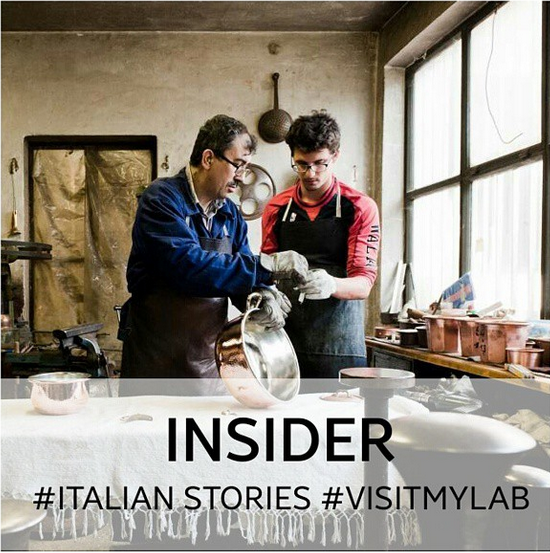 Ready to live for a week in an Italian coppersmith workshop? You don't have to leave your chair. Are you right now thousands of miles away from Italy? Never mind.
If you are reading this article you are probably passionate about handcrafted copper products, or maybe you're planning your own artisan and workshop tour in Italy.
Either way, let's take a look at Andrea's workshop based in Trentino – North East Italy, by the enchanting Italian Dolomites.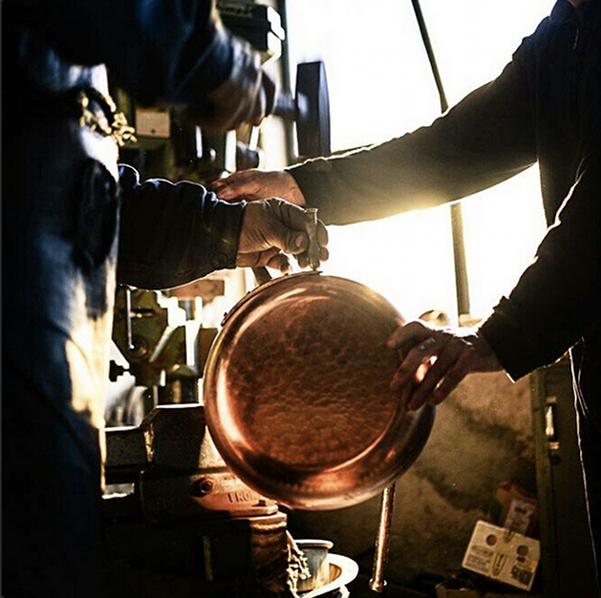 There is so much to learn, so much to see: in the picture above, a sand cast bronze handle is ready to be riveted to an hammered copper pan. Andrea underlines an interesting fact: this is the only stage of the cookware making-process that involves two people working together.
The sun through the window is not the only thing that shines in this coppersmith workshop: we are surrounded by different shapes of copper, and by the silver and gold used for lining the most innovative products.
We can't stop us browsing the wide range of interesting tools on the workbenches. Some of theme are three times the age of Andrea.
Each coppersmith in the workshop treasures his own tool-set and it's always kept in perfect condition.
And how powerful is the tin-lining fire? The master coppersmith brings the copper pan to up until 400° C (752°F) and hand tin-lines the inside; then he fixes the tin-lining without any chemical compounds by dipping the scorching pan in cold water. Bewitching.
We witness how an ancient technique can survive over the centuries until nowadays.
It's quite impressive to see this accomplished three-generation coppersmith family in action.
Tradition and innovation are keys in Andrea's family work. They are also really concerned with keeping their coppersmith cultural heritage alive. "We've founded one of the largest copper museums in Europe" Andrea said proudly. "Our collection of copper artifacts embraces about five hundreds year of Italian copper craftsmanship, from XV Century until today. "
We do thank Andrea for sharing with all of us his weekly routine through our Italian Stories Instagram feed. You can easily track it by following #italianstories and #visitmylab hashtags.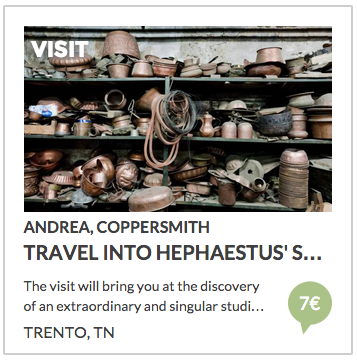 ---
Artisans' work-days are very busy. And yet fascinating. Ask one of us at Italian Stories!
We travel throughout Italy to experience master craftsmen daily routine inside their workshops. We love this part of our job, and on Italian Stories website we disclose our best findings to all of you.
Book an Italian Stories experience and meet the artisans in person, see by yourself their amazing work-space. A first-hand experience in a local craftsman workshop is a good answer to: "How can I make my next visit in Italy memorable? "
Every first week of the month our artisan partners will show their work-life by taking over our Italian Stories Instagram feed . Follow #italianstories and #visitmylab hashtags to track their stories!